Frequency – we come in peace!
Notice
: Undefined index: wrap_width in
/myarea/web/mesmika/public_html/templates/boxed/content/default_item.tpl.php
on line
49
>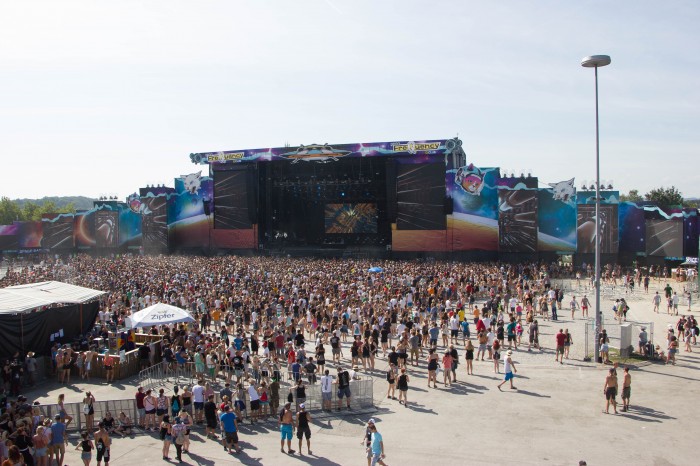 Notice
: Undefined index: wrap_width in
/myarea/web/mesmika/public_html/templates/boxed/content/default_item.tpl.php
on line
49
>
Photo source:
Roman Gorbunov // MESIKA
Festival
Frequency festival is different from many festivals in our location. Held in the town of Sankt Pölten on the Park Green Park. Fans of metal or rock, it will seem light, and we thought he was a youth meeting modern musical trends. Frequency gathered artists of different styles and directions. Each day began at 15.00 and ended at 5.00 the next day. Among the speakers was The Offspring, Billy Talent, Breaking Benjamin, Cypress Hill, Placebo, Alan Walker, George Ezra, Yellow Claw, Robin Schulz, The Amity Affliction, Wiz Khalifa, Kraftklub and many more worthy groups.
The organizers of Frequency are the same as Nova Rock, so at this festival you can find many similarities, for example, suppliers of food, activity, people in t-shirts Nova Rock. But was, of course, and distinguishing features it Frequency.
The concept of the festival can be described as "space madness." At the festival field and beyond it stood the installation in the form of inscriptions "Way To Madness", "Out Of Space", "Black Hole", "Frequency", which is a translucent night floodlights metal construction with tense on them with polyethylene. Also, in addition to them on the field to find a flying saucer, the mad cat, and images of astronauts and aliens saying We Come In Peace (we came in peace).
How to get
To reach the town of Sankt Pölten is easiest by train. Go here Austrian carriers such as QBB and Westbann. You can come from Vienna, Linz and other major cities.
On/railway station you will see signs to the Shuttle of festival (or just head for the main crowd with backpacks, tents, and skin). The cost of unlimited travel on the Shuttle for 7 euros. You will be given a bracelet that you can wear or just to show it when boarding. Bus is several (it is possible that they adjust to the arrival of the train, but accurate data on this question), so to boot can. But the Shuttle, unlike novakowski, no trailer, where guests can store bulky Luggage, so you have to take everything with you to the salon.
Then on arrival, you exchange your ticket for the wristband, you give a Deposit for the waste of 10 euros, 5 of which will be refunded in case of return of the half full trash bag, get a brochure-guide (Festival Madness Guide) and a map with lanyard and go to check in to the camp.
We recommend you to ask the movement of the Shuttle workers, if you need to leave by a certain time. For example, we were in a hurry to leave in the morning after the last day, but as it turned out, all shuttles arrived at exactly 10 o'clock.
Scene
A total of 5 scenes, two of which were located outdoors, so the fun began at about 15.00 and ended at 1.00 and the rest in the room and they opened at 23.00.
Space Stage
The main stage of the festival, which opened the festival. About it and was the main festival performances, and housed a activity from sponsors and partners.
Green Stage
Opened on the second day. Its location is somewhat removed from the main field, but closer to the camp. In contrast to the Space Stage, which is put on asphalt and all the space in front of her was asphalt, Green Stage was on the field, so before it was put a special coating.
UAF
Performances on this stage began at 23.00. was this scene in the administration building of the Park itself.
Electro Stage
Started at 16.00 and 23.00 turned into a Weekender Stage.
Between UAF and the Electro Stage was located in Night Park, where he could spend time with those who have energy left after dancing the day at the main stages.
Camping
It is forbidden to bring to camp:
large gas cartridges
gas cylinders
different flammable liquids
open fire (you can ask for in a Grill&Chill Area)
any kind of cookers
glass
large items (sofas, couches, plywood, etc., is not allowed on the base)
dig holes is strictly prohibited
bulky items, such as boxes, tables, bench
bicycles, mopeds
weapons or objects similar to weapons like, fireworks of any kind
Pets of any kind
selfimage
flags/banners with different calls
Total, there are five areas to live in.
Normal camping.
Quite large and located on both banks of the river Traisen. Its undoubted advantages that you could put your tent under a tree or Bush, thereby protecting it from the hot Austrian sun and close access to the river where you can cool off.
VIP camp
Quite a small protected area located near the Green Stage, but in its territory there were no trees, so shelter from the sun was not possible.
Tent Hotel
Tent city with ready for occupancy by tents, which have two mattress, two blankets, a Desk, free Wi-Fi and lockers.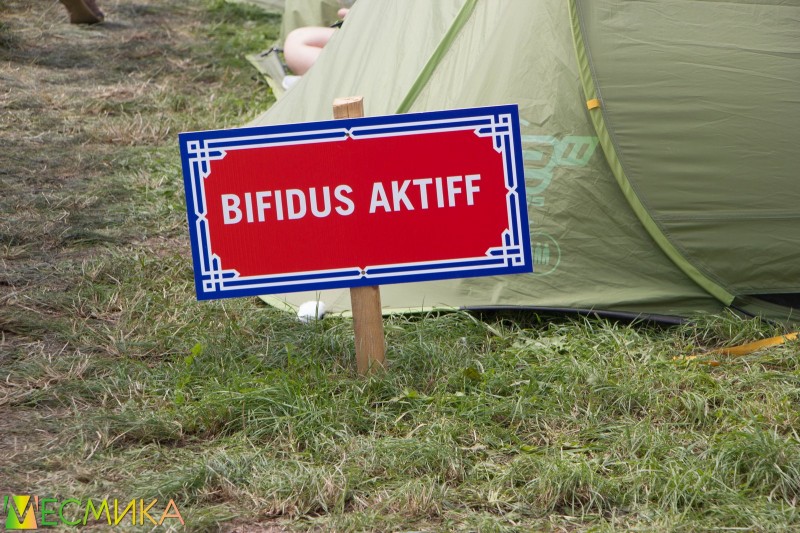 Green Camping
Was at some distance from the main camp, had a higher number of containers for garbage.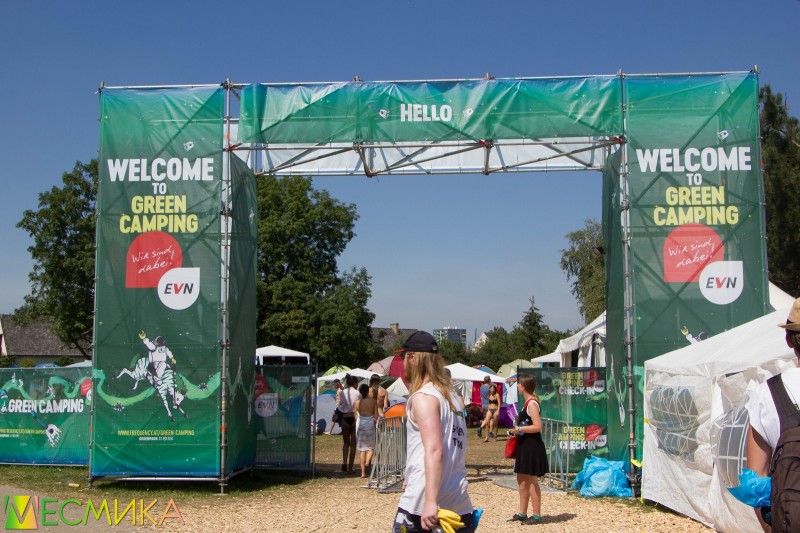 Caravan
Camping for those who arrive in caravans. He was all on about corn fields. Here there has its own atmosphere – people come almost entirely staffed – from generators hot water to speakers and sofas.
The river Traisen and the city
Not the last role in the atmosphere of the festival is the river Traisen. Frankly, for a Russian this pond is more like a stream – width of 30-50 meters. But, nevertheless, this is a great way to cool off and have some fun while waiting for the speeches.
The river is very cold and rocky, though small and it is impossible to drown. However, in our opinion, the Traisen quite dangerous to move because the rocks can be slippery, hurting toes or be cut the same stones or tin cans of beer, so if you really need to get to the other side, do not remove the slates. Those who dared could find a place a little deeper and swim both independently and on the boats.
But the main pastime of the guests were... chairs. People took folding chairs for the picnic, put in the water and sat the whole companies, sipping a drink. Main accumulations were in the rapids and passages and from afar resembled the fur seal rookeries.
Do not forget that, in fact, the Frequency is held within the city: above the heads of tourists rushing cars on the highway, around town there is no difficulty, therefore, we would not be surprised if all the surrounding houses are occupied by a great number of fans. Interesting feeling: to be in the outer world of Frequency and understand that you are very close to the earth's civilization.
Security
We counted at least seven points, where teams of physicians. One of them was hiding under the bridge from the heat, where, however, hidden and guests.
Austria is quite a hot country, so grab a sunstroke is not worth anything. We highly recommend you to stock up on creams and hats, and don't forget a swimsuit and cool off in the river whenever possible.
Patrol police we only noticed near the entrance to the festival, but it should be noted that the outrages we have not noticed too. However, we must remember that the responsibility for safety lies with nasami vacationers. Despite the fact that Austria is a prosperous and happy is feeling safe., we strongly recommend not to leave anything valuable in the tent and lock it to at least toggle clasp. Our neighbor, stole out of the tent the sleeping bag. Of course, it is not clear what it could be valuable, but the incident is not very pleasant.
Chill&Grill
Area Chill&Grill is a great place not only to relax but also to show their culinary abilities.
In fact, this area was a fully equipped BBQ outdoor kitchen. Guests needed only fresh meat you could buy in the nearest supermarket (which we write below). Organizers provided a sufficient number of BBQ units (for the proper functioning of which watched a special workers), foil, foil trays, disposable Cutlery, napkins and a few sauces (ketchup, mayonnaise, mustard, barbecue), toasters, tables, chairs, umbrellas. And after lunch you can lie in a hammock or on a pallet.
Hygiene
All camps had several health zones, which included containers with showers, which was delivered warm water from the boilers, booths with ceramic toilets and sinks with mirrors (all lit at night). Nearby lay a huge amount of toilet paper. Girls did not have to worry about drying your hair – Style Pagoda hanging mirrors and Hairdryers from the organizers. By the way, a comfortable shower and toilets were also free. However, on the morning of the third day in one of the zones in the usual camping almost all ceased to function due to clogging, which, however, was resolved after one and a half hours.
Of course, the old toilets were located at all camps and on the field of the festival. And in the VIP area of the festival field was installed Japanese Washlet toilets class is those with remote control, music and streams. And after the opening of the interior scenes, the audience opened access to normal toilets. That is, there was a feeling that people just came into a night club. Only very large. And in the Park.
Garbage
In addition to bodily purity organizers pay great attention to the purity of the surrounding nature. Everywhere there are garbage cans, or wooden containers with the motto: Party Hard But Clean, Keep Our Planet Green and everywhere you can meet volunteers from the Green Team, collect garbage
The System Is Cashless
The Cashless system is no different from the same system at Nova Rock. In a nutshell – you get a card for a Deposit of 5 euros, put your money on it and pay it on the field, and at the end of the holiday lease it back and get the rest along with a Deposit.
Silent Disco
Assume that the format of the discos is already familiar to many festivals. Music sounds from the speakers and from the headphones that give everyone at the entrance. From the outside, this show looks pretty funny – people move without audible music and shouting the words of the song, and two of the DJ standing behind the console and cheer the crowd. However, it is necessary to wear headphones as you descend there, where are all the other participants in the world of music and favorite tracks. Funny also that can include two different tracks – that is, one half dancing and singing along to one song, and another completely different!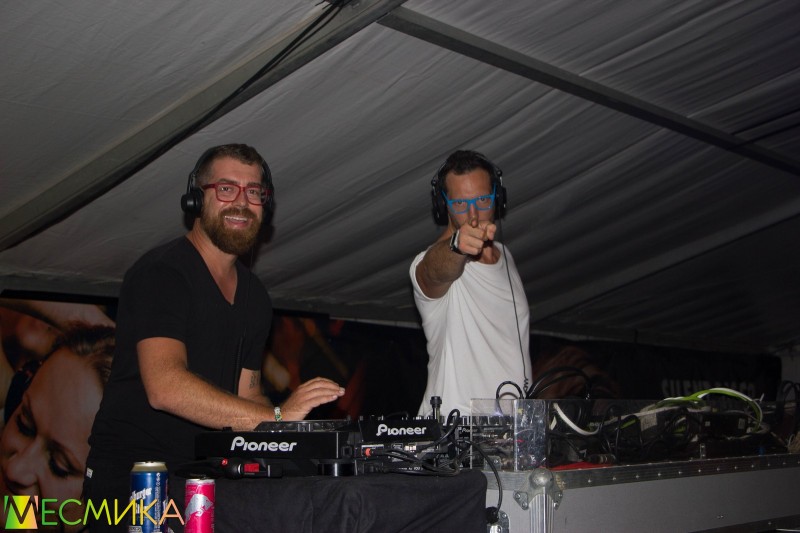 Competition in Turku
On the second day near the area of Chill&Grill held a master class in Turku. He gathered not only girls but also boys who also tried to master the art of this dance (or maybe they just came to gawk at the beautiful girls), and someone from behind the fence trying to play serious judges and make an assessment of the technique. In General, the master class was held under the universal joy and jubilation, and ended with a photo involved.
Activity
To Frequency a huge number of activities and gifts from sponsors and partners.
Canon
Handing out sacks with labels Shoot>Remember>Share some of the tube on the ropes. In the tent stood the Canon printers that you could use for other purposes, that is to make photo and print it.
QBB
In, as we call them, the "Austrian Railways" it was possible to relax on sofas, play a computer game and get a ton of gifts: a hat, eye patch for sleeping bag sack, Jolly ranchers, kit first aid, etc.
Captain Morgan
Private gallant ship is moored Captain Morgan. On the deck of the imposing captain took pictures with everyone, and the beautiful girls were treated to a spicy rum and coke or a white juice and ice to choose from. After you have received the free drink and the girls would put a "stigma", as if attaching you to the team (but we know that in fact, in this way they avoided the re "applying" for freebies :) ).
Red Bull
Red Bull has put some high platform, which offers a great overview to the platform, and, most importantly, the stage Space with several levels.
Inzersdorfer
"Breadwinner" of any festivalsite. Inzersdorfer is a manufacturer of food products that are easy to take along on nature: a variety of canned soups, spaghetti, etc. on Frequency Inzersdorfer decided to submit a sample of something similar to a cream cheese with herbs. To eat it was with breadsticks. And when sated, he could try himself as a football player, knocking the ball design of giant tin cans; the prize for this was a t-shirt. In General, to get away from Inzersdorfer was not only fed, but clothed.

Raiffeisen-Bank
The Cashless system was secured by Raiffeisen Bank, has also his area, in which you could play slot machine and win various gifts. The losers as a consolation gave jelly beans.
Guiness
In a separate area with the food court Guiness made a small stage, where he gave the local "bards". When we were there, dark-skinned Latino was singing something in Spanish.
---------------------
In addition to these gifts and for the field it was possible to minipulator of water for cooling, energy candy, coasters for drinks, salami in the dough... well, empty handed from the festival did not leave anybody.
The VIP area on the field
The VIP area was a separate area with hammocks, tables and chairs and a podium, on which was a bar, sofas, seats and a great view of the field.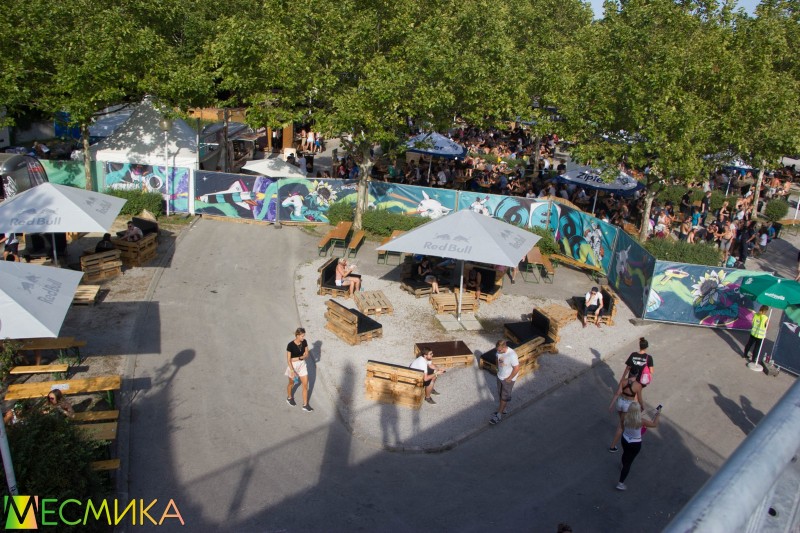 Out Of Space
In redox area ogorodnoy that says Out Of Space you can lie in hammocks and relax under the canopy of trees
Food
The most common type of food is fast food with a Burger, small Rock Food with fries, cheese fries, onion rings, chicken wings, noodles from the wok and pizza, etc.
But you could buy something more useful for stomach – meat dishes, cabbage, pancakes. Here as well as at Nova Rock in the morning, offered Breakfast from Goldkorn (and here it was possible not only to charge but also "feed" your device)
Was paid attention to the vegetarian menu:
Drinks
The most important drink there was beer Zipter (4,5 euros). Also you can drink different cocktails with the addition of Red Bull (the energy separately cost EUR 4), spritzer (4,5 Euro), 0.2 Egermejster (3 euros), soda (2,7 Euro), coffee (2 euros), etc.
About the usual camping operated Frequency Market, where in addition to food, you can buy shower gel, shampoo,
Supermarket
A great way to save money and diversify their festival menu is to spend half an hour to go to the supermarket Merkur. The way you point out any visitor, or you can go for a man with an empty cart – obviously he's going to fill in several kilograms of food and crates of drinks. Promoters are not wasting any time and guests are treated to a festival of various promotional products in front of the door of the shop.
In this shop you can buy fresh meat or fish, bread, water, coffee, any drink and carry it all into camp, where you can drag almost everything nailed down (the list of prohibited items we cited above).
Merch and stuff
Merch is pretty standard: t-shirts/t-shirts (25€), caps (€30), sacks (15 euros), bags (€15), points (10 euros), etc.
But in addition to the official merch of the festival you could buy merch from various artists (t-shirts - € 25), hats, arafatki, scarves, sunglasses, make new eye color for 25 euros in the form of lenses and stick temporary tattoo from 6 euros.
---------------------------
Frequency - festival, which blows in the youth and new music trends. The timing for him outside the box – it takes place in everyday life. But that does not stop tens of thousands of people to visit it, combining the camping and modern music.