Gromyka (Maxim V. Koshelev): We don't play for Gopnik, it is the music of a specific format
Notice
: Undefined index: wrap_width in
/myarea/web/mesmika/public_html/templates/boxed/content/default_item.tpl.php
on line
49
>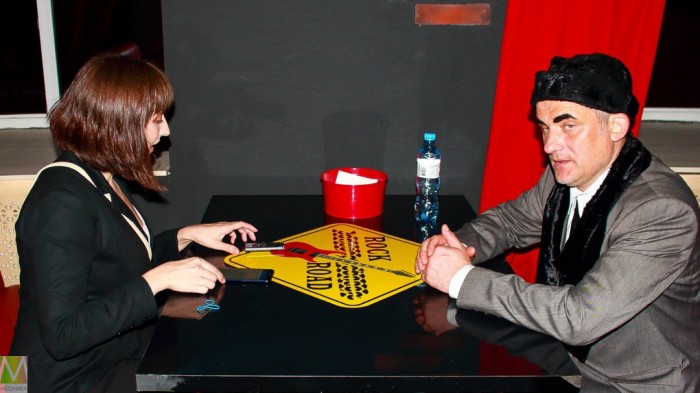 Notice
: Undefined index: wrap_width in
/myarea/web/mesmika/public_html/templates/boxed/content/default_item.tpl.php
on line
49
>
Photo source:
Tatiana Orlova // MESMIKA
15 September 2018 Nizhny Novgorod for the second time visited Gromyka Nizhny Novgorod and conquered the audience with incredible energy and positive. Mesika talked with Maxim Valeryevich about the first emotions of listeners, speech at the Dobrofest and memories about the Soviet Union.
An Interview With Andrei Gromyko.
Gromyka: magic or tin?
Maxim V.: I think that the most likely magic.
What is it? Where are its origins?
M. V.: that's a Difficult question. We met with our former drummer for the band the Revolver when it was in the Bud, he said, "why are you doing this, why?". I said, "Buddy, it'll find its audience: not Gopnik, and not some other person, and you will find a particular listener, so that for that particular listener, it will be magic.
Your live performance I saw at Dobrofest this year, and the first impression was like a shock mixed with bewilderment, "that's you?". Do you have the calculation on the first degree of emotion of the listener, or are you doing what you are doing, and have each person because of their personality experiencing their own emotions and then decides how to build relationships with a group of Gromyka in the future?
M. In.: Rather the second.
And as for Dobrofest, what are your feelings on the first show at this festival?
M. V.: Quite pleasant. As I understand it, the festival is not very large, about twelve thousand?
This year there were seventeen.
M. V.: nevertheless, it seems to me that these little festivals much better than the more known (I won't identify the other), more reverent or something.
One of the main organizers of Dobrofest name is Artem. The organizers of the press center of Dobrofest really got into the song "Artem" and even received an offer to make her a kind of anthem or symbol. How would you react to this?
M. V.: Why not? Need to talk about this with the organizers.
If invited next year, will you go?
M. V.: of Course you can come with pleasure.
Today you have repeatedly said that our town (Nizhny Novgorod – approx. ed.) this time you liked it more than the last time. And what exactly has changed?
M. In.: Last time we left the station and went to find a hotel this merchant town, the area, which borders the station, just wonderful. I like the architecture, although I'm more of an artist or designer by education, I think that it has something to convert, such as this club, which is located in a former winery, began to repair and turned out a wonderful place, I also really liked. All of this to convert. Here in Irkutsk, for example, old homes – PEL, barbecue, anything else is a street of old houses.
We are from Petrozavodsk, we do not have this. When our troops were retreating, bombed the merchant Petrozavodsk. We have some houses. It's a shame really. And you've got it, and I like to see all that remained, all these houses.
But this time you notice that something has changed.
M. V.: this time just a different time of the year and it may be, changes everything. And even with the old design it is necessary to leave somewhere, no need to change anything. This is necessary to think not a single day or even a week. I like European fortress, but now I am impressed by your Kremlin, in the small town of Aleksandrov, too, there is the Kremlin! Great.
On stage you present a certain image associated with the Soviet Union and you some time for adult life lived in that era. What is your attitude towards the Soviet Union? With nostalgia, or have negative points? Or both?
M. In.: Rather something, and more. There are many disadvantages, there are a lot of advantages. If you somehow specify your question, I would say.
First emotion at the mention of the Soviet Union?
M. In.: Well, I was too small. Well, let's say, ENEA. Once Petrozavodsk was the capital of the sixteenth Republic, Finno-Ugric, until 1954. This is Stalin's case, the war was organized with Finland, but why? Because the factories of St. Petersburg were visible from the Finnish side of the binoculars. In this respect, Stalin was probably right. He wanted to change the territory more North. This is the case of historians, and not us, although we're the same people, and historians.
You have one set of costumes or there are options such as summer, winter, for a change?
M. In.: While single. I hope there will be others.
And in addition to the eyebrows is even any makeup?
M. V.: No.
This year Gromit is four years. As you can see Gromyko in five years?
M. In.: Six to ten was. I will not say anything unless you know.
What do you think, what would the Soviet criticism, seeing your image and work on stage?
M. In.: Someone wrote in the comments on the Internet, who are you? Of course, such was not at that time.
Well, probably shocked.
M. In.: This would not be at all. There's nothing to say.
A few words to your fans who were at the concert today who have received an unimaginable amount of emotion and the fans that are waiting for your performance in other cities.
M. In.: First, a huge thank you to these sweet people. Somehow my friend, the art critic of the Russian Museum said: "Maksim Valeryevich, come on you nice people. I look at their faces – not stupid guys, smart, it is immediately evident". These are her words, and I was definitely pleased. We don't play for Gopnik, it is the music of a certain format, and a huge thanks to those people who come to our shows, thank you all around the cities. And, in particular, in Nizhny Novgorod.
Thank you very much, we really enjoyed today's concert, it was incredibly cool and really liked it. Waiting for you soon!
M. In.: Yes, like Artem... don't know how the middle name.
So I do not know, unfortunately, his middle name, we all used names and middle names we like something doesn't add up.
M. In.: Agree, this is a good Russian tradition, which shows respect. Yeltsin "on you" I don't really like. And Yeltsin is not very respected, because he is cool people. I believe that this is not a distance, and respect. I will call Tatiana, and it will respect you and not stiffness. It's a great Russian tradition.
Let's revive the tradition. Thank you for your speech, we wait you at festivals.
Gromyka in Nizhny Novgorod – the photos at the link.
To read the article about the concert Gromyko in Nizhny Novgorod on the link.
Organizer: INTER MASSIVE PRODUCTION