Oomph!: It is important to choose the music that initially is not suitable for performance with orchestra
Notice
: Undefined index: wrap_width in
/myarea/web/mesmika/public_html/templates/boxed/content/default_item.tpl.php
on line
49
>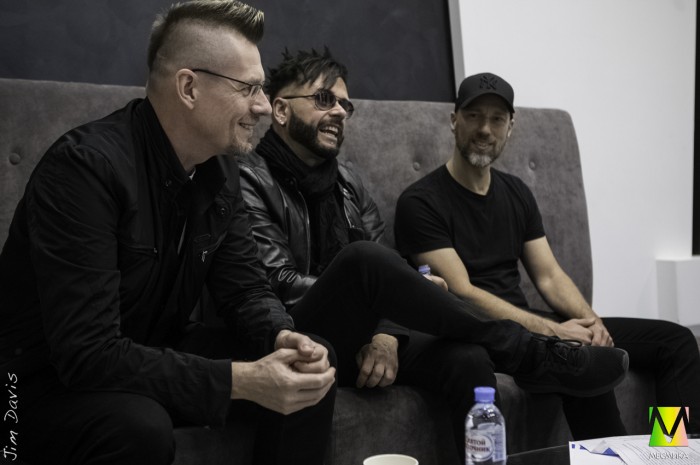 Notice
: Undefined index: wrap_width in
/myarea/web/mesmika/public_html/templates/boxed/content/default_item.tpl.php
on line
49
>
Photo source:
George Sukhov
In September 2018 the group Oomph! gave their fans a truly Rochesterny surprise: in Moscow and St. Petersburg hosted the concerts of Oomph! with a Symphony orchestra. Before the show Oomph! in Moscow Mesika talked to Dero, Crepe and Fluxon about how songs were chosen for the show and the new album.
This time you are with the Russian Symphony orchestra. We know that you have already performed with the orchestra three times. It's really great! How did the idea of live performances in the orchestra?
Dero: Yes, as we have said, we have a great pleasure to perform together with the orchestra three times previously in Germany. And I can even say that it was an honor for us to play in the orchestra. The first time we played with the German band in our hometown Braunschweig. It was a huge event. Again was lucky to work with an orchestra from Poland during the festival in Leipzig. This idea to play along with the orchestra, then we are very inspired! One of the most memorable festivals! A sea of emotions, to shiver! During live performances with the orchestra have to be more and to do more to monitor not only the performance of the group, but also to think about how to blend in with the sound of the entire orchestra. Yes! You should always try something new. We thought that our Russian audience, which is so huge, it would be interesting to hear and see such a statement. So today, imagine the hits Oomph! together with the Russian Symphony orchestra. It's cool! We can say that this friendship between our countries through music!
Great!
Tell me, are there any among the Russian musicians-those classics that inspire you when creating your music?
Dero: Of Course! Russian classical music is very inspiring to us. Because she is very in tune with our feelings when we're writing our own music. A huge sense of melancholy. Everyone is familiar with. We really appreciate this side of the Russian classics. Russian classic full of soul, love, unrequited love. So she's really close to us. So without singling out anyone in particular from the Russian composers, I would say that Russian classics inspiring!
We are happy to hear that!
We feel very good your cooperation on dieSchlinge with the band Apocalyptica. The cello sounds divine and definitely suited to the General mood of the song. As you consider which instrument in the orchestra is most matched with your music? And could you name one song you must sing at the concert tonight with an orchestra?
Dero: What a question! It fits. The orchestra cannot be broken into components! The orchestra, he is a living body of music that can anything to convey any emotion. Death, joy, meeting, parting. Each musical instrument has its specific voice. And yet with only an orchestra can perform any song, show any emotion, to convey hatred, despair. Listen to how wonderful combination of musical instruments, and understand, everything is possible.
Flux: In our songs there are and strings, and classical musical instruments. But we create this music by sampling or synth, because you can't, of course, bring all this huge orchestra in our little Studio. Now we're excited to hear the result of the work together with a real big orchestra. All the melodies that were heard only in our heads, is now ready to become a reality. And this is the best that happened to me in recent days. So, at yesterday's rehearsal, I stood in the middle of a huge orchestra and could hear every violin, every instrument as only a conductor can hear. It was so impressive, I look forward to today's speech.
We also can't wait for tonight!
Dero: we are!
That is, it was not difficult to pick a song for today's concert together with Russian musicians? Or problems?
Dero: We had a long discussion of choice one or the other composition to the General idea of the performance. It is important not to try to look for easy ways and choose the music that initially is not suitable for performance with orchestra. That would be interesting! Take, for example, Der Neue Gott from our very first album. Well, does "New God" is not suitable for execution with an orchestra, but we are willing to take risks and surprise the audience. Yesterday I heard an updated rendition of this song along with the orchestra, I thought, "Let's do it! The audience will have a memorable and original performances! Here it is! Be surprised!". No reason to try to do something that will initially sound perfect. We stand for fresh ideas and therefore are not afraid of difficulties. We want to make our speech memorable and interesting even after all this time!
Next year we expect the release of the new album of Oomph! Could you to reveal a little secret that is new in your music? Are there any extraordinary change or may be surprises for the fans?
Dero: there will be Surprises for sure! At the moment most of the records we made together in the Studio. About half of the parties have been recorded separately from each other in our small studios at home. The first time we tried to go back to basics, in the distant 90s. However, it will be a completely new music, new sound Oomph! without repetitions. We seem to have used a time machine to go back to our 90s Tried to feel what we felt at the time, and connect them with real emotions and look at the present. The result was definitely something fresh. The fact that no one has ever done before. Ready to wait for a real metal riff, concentrated, heavy, provocative and very German rock? Here! And I also look forward to the release.
Flux: This is the first release of the band Oomph! which will be released in Russia officially, with the support of a record company. We signed a contract with Napalm here in Russia with the company "Soyuz", which will be responsible for the promotion and distribution of the album. We are really waiting for this moment. This is our next step of promotion in Russia. The album comes out on 18 January 2019, and we are going to organize a tour in Russia. We plan to include in the tour more cities and move further East. In the last round, there were seven cities. So maybe next time...
Dero: Novosibirsk To Vladivostok.
Flux: can't say immediately, but further East definitely! In the last round we saw so little, and I would like to know more about Russia! It is our specific goal!
Dero: Yes, we are very interested to explore Russia and advance further to the East. In the last round we noticed how different Russian cities from each other, so multi-faceted culture, customs, food and how one can be different even the weather in one country!
Crepe: Perhaps one day we will decide to organize something like a tour of the cities TRANS-Siberian railway. That was awesome! Our common dream to see the country from this angle!
Dero: (dreamy) Lake Baikal....
Flux: We know that our fans from Vladivostok come to our show in Moscow. It is time for us to make a reciprocal gesture of love and to hold concerts in their city (approx. ed. there is a view from Vladivostok). And we hope to be able to go to Japan. Next year I really hope to promote our new album, we will be able to light and in Japan (approx. ed also officially emerges into the land of the rising sun). It's cool, come with a tour of Russia there will go across the ocean!
Dero: Promotion in Japan seems incredibly difficult target for the German band! Prior to that, we have all the ideas literally broke off at the start, when it came to Japan.
We wish you great success in the promotion in Russia and Japan!
Maybe have you any idea of music videos to new songs from the album 2019?
Flux: As you say... We just finished to mix the album. And next week back to the process of refining and polishing of the material in Germany. Then talk with our record company about what songs are best to use for video. To tell the truth, when the album is finished and ready for release, is not a composition in itself, and what it is set to promote the album. Us producers say, "Well, OK! This is good!", and we are then going to make a video.
Dero: I Can tell you now that the new album, the 13th in a row, by the way, is quite provocative. It will rise a variety of topics, including the hot and very hot. Will reveal the flaws of modern society and to talk about politics. Every time we addressed in our work is so important, most pressing issues. And, of course, not just only shooting a provocative music videos and write nasty texts. The objective is not the provocation itself. For the band Oomph! provocation is primarily a magic wand to force people to think. Yeah, what is with you hell is going on? What are you doing? We want as many people as possible paid attention to a particular problem. Let's see how destructive your actions as you stupid as you are aggressive. "Why did you go so wrong?" – we ask in his lyrics, and yet try to find the answer to these questions. So we want to make our listeners aware of the importance of acute and, perhaps, become better, thinking on what eventually happens to them.
How about shooting a new video in Russia?
Dero: It would be cool if it happened! In fact, our next video will be shot for the first time in Serbia. Although I would be happy no doubt if we could ever shoot a video in Russia. Because nature is beautiful and huge country and there are so many places that match our music. So if you have something, just let us know about it. If possible, why not?
So, we look forward to next year. So many plans! Both the album and tour of Europe. Share why we should definitely be on your shows?
Dero: Without exaggeration, our next album will be the bomb! You have to listen to new songs and to hear them performed live! Hopefully at the end of 2019 we'll be back in beautiful Russia, and let's rock and round to the max in many cities of Russia! Our Russian fans definitely need to hear all the songs from the new album, which will be awesome, I promise!
Thank you! Waiting for your performance tonight!
Dero: (in Russian) Thank you very much!
Interviewed By Nina Demidova
Photos of the concert Oomph! in Moscow at the link.
Article about the concert Oomph! in Moscow with orchestra on the link.