Interview with René Berthiaume (Equilibrium) about Armageddon, Wonderland and a new bass player
Notice
: Undefined index: wrap_width in
/myarea/web/mesmika/public_html/templates/boxed/content/default_item.tpl.php
on line
49
>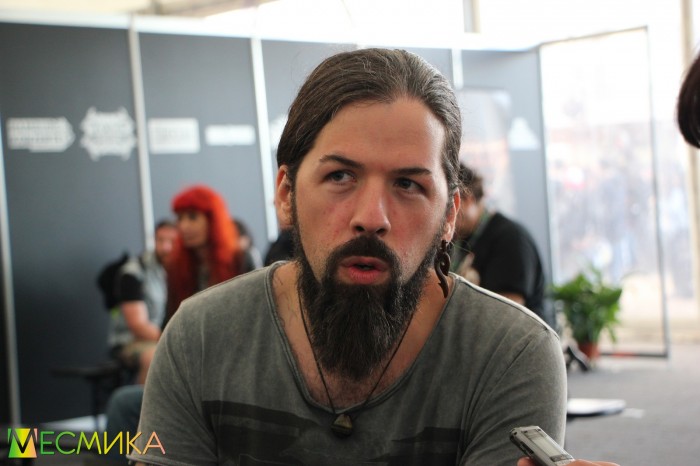 Notice
: Undefined index: wrap_width in
/myarea/web/mesmika/public_html/templates/boxed/content/default_item.tpl.php
on line
49
>
Photo source:
Roman Gorbunov // MESMIKA
Читать русскую версию здесь.

At Wacken Open Air MESMIKA did an interview with René Berthiaume (guitar, keyboards, clean vocals) from Equilibrium. Equilibrium is a German folk metal band combining elements of folk music, black metal and symphonic metal with various other influences.

On the 12th of August you will release a new album, called «Armageddon». Very many Russian fans think that this new album will have a spirit of you previous album, «Erdentempel». What do you think about it?
Rene: Yes, it will definitely have some spirit. On our previous album «Erdentempel» we had one song which was called «Apokalypse». And this song gave the direction for «Armageddon». So we took the topic about humanity, destroying planet, destroying themselves, destroying animas... And we put it on this «Armageddon» album. So, we have a lot of dark songs, a lot of dark lyrics, but still it is also positive and has some fine moments.
In one of your previous interview you said that "Equilibrium" means a balance between to be yourself and to be involved in crowd. What about now? Does it mean the same and how do you save your balance?
Rene: Well, this kind of balance can be found everywhere. When we started with the band, we didn't really think about the meaning, we just took a name to have. And it would not limit our music. When you see the word «Equilibrium», it's not like «OK, this is black-metal or this is power-metal». It can be everything! So, it was the first reason we took this name. But nowadays, it's really this kind of balance, especially for the new album, it really fits. Because, we have one song from this album, which is called «Koyaaniskatsi», that comes from native Indian language, from the hopi-indians, and means some kind of the opposite of balance, it means out of balance. For this song we use it to describe humanity, how they get more far away from the nature, from their animas, and how they threat animas... So, for this album, «Equilibrium» means that you have to try to keep this balance with the nature, it's where we came from and, everything gets more and more industrialized, technical, more virtual, and, it's really important to not to lose the connection to the nature.
First time at Wacken you played 11 years ago. Tell us about the difference to be at Wacken at the first time and to be at Wacken today.
Rene: Of course, over years festival became much bigger and louder, then there are so many people… I remember, in 2005 we played for the very first time, I think, we even didn't have released an album yet, or maybe it was one album, we just started with the band, first time, and it was already crazy. I remember, after Wacken, we got an offer from the Nuclear Blast, and we have worked a lot of years. Everything became bigger, but it's still the same atmosphere. It's still Wacken, it has a kind of special atmosphere. I can't describe this. For lot of people it's like Mekka, metalheads from over the world are coming, and it's all international… It's just awesome.
Your two previous bassists were girls. What about the next one?
Rene: We have a new bass player, his name is Makki, and, obviously, he's not a girl. We're really thinking about it. When Sandra left the band, and when we took Jen we thought that we always had female bassists, so, let took a female bass player again? But for the next chapter we thought, "We shouldn't take a female, just because she's female. We should take a PERSON but a bass player", and first, a person, who we like, and fits to the band. And so, Makki was the first choice now, because, he's already with the band in the background. He does our tour-management for years, so, he knows the band, and he's an experienced bassplayer, because he played bass for the band "Suidakra" for a lot of years. We know, who he is, and we like him, so, he is with the bass now.
Are there any festivals or places you have never been but you want?
Rene: There are lot of countries we're really looking forward to play shows there like Asia, we're working on it, also North America, we're really like to tour to North America. In Russia we were already last year, in Moscow and Saint-Petersburg and it was really awesome. It was the first time in Russia for all of us or most all of us, so it was a lot of impressions from the country. We're really liked it, it was some kind of crazy! We took the train from Saint-Petersburg to Moscow, and traveled during the night. It was really a lot of impressions and we'll really come back soon!
Russian fans are looking forward to see you again!
Rene: We already got offer for this autumn, but we already have a tour. We'll definitely come back next year.
Do you listen to any other bands? Maybe German or Russian?
Rene: Of course, we are listening to bands. I think, "Arkona" comes from Russia.
Yes, it's from Russia. It's folk.
Rene: Sometimes I'm listening to bands, I don't know, where they came from. So, maybe they're more Russian bands. When we're writing new music, new album, we don't really listen to other bands, because you really want focus on your stuff. It's always nice to be at Wacken, because there a lot of bands, that we really like, and it's nice to meet them personally and to watch the shows.
Why did you refuse using real drums in recording of your new and previous albums?
Rene: It's not that I refused it. Hati, our drummer, lives in Israel, so it's a kind of far away from us. And then, we had some kind of deadlines. So, of course, my first choice would be to record real drums, but due to schedules sometimes it's not easy. But we're still happy we really put a lot of work to program the drums, and, I think, the result is quite good. But, of course, maybe on the next album we'll have real drums again.
Why were the new and previous albums recorded by you only?
Rene: That's a good question! It's always a lot of work, you can really stuck to things. One thing that I like is to have control of everything. You can control the sound, you can do everything what you want even at night, all the time, and even before you deliver it to the master you can make some changes. I really like this flexibility. But on the other hand it would be nice to have a person, who can say , "OK, I want to make this like this, like this..."! . Sometimes it's not easy to find a person who really knows the sound. We have a lot of instruments, a lot of tracks in our songs and it's a lot of work to do. But in the end I've learnt that making sound is also fun. It's a mixture between about the fun, and about "Wow! It's really heavy!", because this is a process of writing music and recording. When it comes to mixing, it really can be a pain in the a**! . It's always a challenge.
Do you think that music is a reflection of the author? What song can describe you and other members of the band?
Rene: Yeah, I think it's definitely a reflection - especially our new album. I mean, in our first albums we had a lot of German, northern mythologic things. We played old stories with modern music. But nowadays, lyrics are much personal. Especially, on "Armageddon", as I said, we're talking about humanity, threat of planet… I can't speak for the others of course. But for me, every song is some kind of the mirror of what I think and what I feel.
Imagine that you have a chance to live in the Wonderland a life full of adventures but without an opportunity to come back to the Earth. Would you take this chance?
Rene: That's a really good question! Without the possibility to come back it's really hard to say the answer! The other people you love are here, of course! And if I can't take them with me, I think - NOT. In general, I think - not. Because, that's the place where we come from, where we grew up. If there's a lot of sh*t going on, on this planet, and I think, people really f*cked up the planet. You don't know, if it's going to be better. But at the end of the planet, I think, they will solve the problem somehow. I think, at the end of the Earth, we will win, of course. If the people don't change, humanity will fade away. They will be killed by nature or by themselves. I think, we should stay here.
Do you agree with the statement that music is the only the honest art?
Rene: Well, I think, it depends of the artist. There are a lot of musicians or composers, who just make it, because it's their job, theyare living out of it, they earn the money. But I think, if you are a real artist, who just writes what you want, what's in your head and you always stay behind what you're writing. I think, it doesn't matter, if it's music, or if it's painting or writing. I think, if it's something what comes from your heart, it's always honest art.
If music became a crime, would you continue?
Rene: It's really a heavy question. You mean, if I want to make music, and they put me to prison for this? It's interesting… Do you know the movie"Equilibrium"? It's something like this. When you have the emotions like music, they kill you know. Maybe, I'd do it just for my own.
Some words for your Russian fans.
Rene: We send greetings for all our Russian fans! We really enjoy that we have been in your country, and we hope to come back soon and meet all you people there again!