The Exploited in St. Petersburg: they will show what real punk is
Notice
: Undefined index: wrap_width in
/myarea/web/mesmika/public_html/templates/boxed/content/default_item.tpl.php
on line
49
>
Notice
: Undefined index: wrap_width in
/myarea/web/mesmika/public_html/templates/boxed/content/default_item.tpl.php
on line
49
>
Photo source:
Nicholas Birula // MESIKA
They can discover the secret of how to become a legend. As your hair will become a symbol of the whole movement. Album names - slogans. And the name will forever remain in music history. The Exploited, led by their irremovable dealer Watty Buckenham arrived on tour in Russia. As part of the tour on March 3, they played in the club "Cosmonaut" in St. Petersburg.
It seemed that the biggest concert hall of the city simply will not withstand the pressure energy of the assembled punks. However, soon after the start it became clear - though the club was filled almost to capacity, and the audience staged a fierce slam and stagediving, the whole event passed relatively peacefully.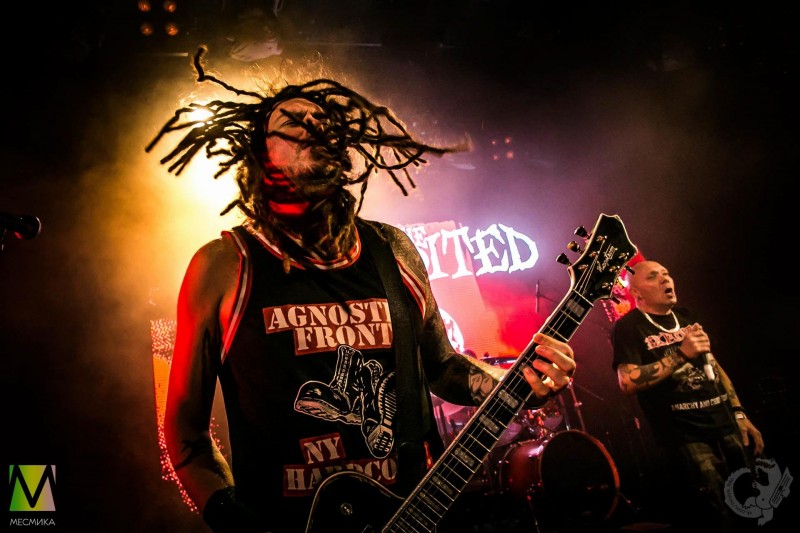 As usual, according to tradition, before the main guests were "warming up". The public band the Meantraitors as a constant familiar support The Exploited. And in principle, Europe and Russia, the fans of this musical style well know them.
Needless to say, the performance of the Meantraitors itself hurricane event! They are so fiercely sounded so lively and insanely lived every song that the audience almost never called The Exploited. Frequent witnesses of the warm-UPS I know that is the recognition of the interest of the public.
In the final The Meantraitors invited everyone to the presentation of the new album and the celebration of the thirtieth anniversary of the group, to be held in may in Moscow and St. Petersburg.
Well, in twenty-one hours left themselves The Exploited. The long-awaited and ageless, although already forty years. How many punk-rock bands you can recall from the experience? Yes, still alive and vigorous.
Started with The Exploited Lets start a war. The leader of the group, Watty Bukena long been a signature gesture, their own demeanor. The sound of the microphone on the Mohawk, the way, became a classic punk picture. Behavior on the road. But the main thing is the song. From the meaning, themes that are picked up by the protest, anyone not like, the audience all over the world.
Played that night much: UK 82, Dead Cities, Troops, Anarchy, Cop cars, Army Life.
These are just some examples of the extensive setlist of the Scottish group.
"Hot" in unison with the Russian audience sounded USA.
Many have been waiting for another traditional idea. The song Sex & Violence on stage, called the audience, who sang it along with The Exploited. It is not surprising that for many it was a dream come true of a lifetime.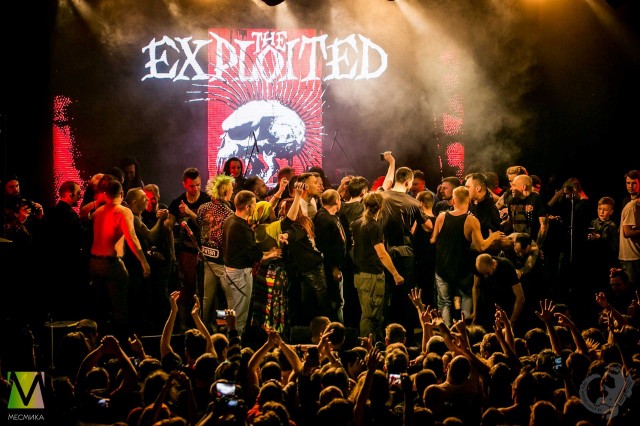 Encore, in addition, played the most famous and iconic Punks not Dead and it Was Me.

By the way, it is now very strict about the ignition of fireworks at concerts. However, here the audience was able to arrange the artists of the show. Red smoke nice to decorate a few songs.

Not many concerts can so shake of those who attended. Only a true punk-rockers, the founding fathers of the whole movement, samples of the historically formed image can remind you what else there is punk music, one can hear and give an opportunity to its listeners to turn around in the full sense of expression.

Author Juliana Benesova

Photo report on the link

Notice: Undefined index: wrap_width in /myarea/web/mesmika/public_html/templates/boxed/content/default_item.tpl.php on line 49
>
Notice: Undefined index: label_in_item in /myarea/web/mesmika/public_html/templates/boxed/content/default_item.tpl.php on line 50


Artist: