New/Open Showcase Festival in the Yeltsin Center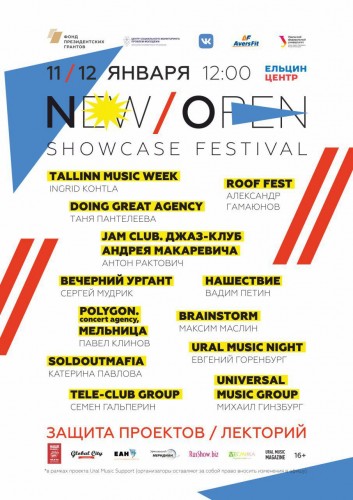 The timing of the festival:
New/Open Showcase Festival in the Yeltsin Center
The venue of the festival:
Yeltsin Center, St. Boris Yeltsin, 3, Yekaterinburg
A visa is required:
for citizens of Russia is not required
On 11 and 12 January 2020 at the site of the Yeltsin Center will be New/Open Showcase Festival, which will feature promising young musicians from across the country. They will present their works to the audience of the festival and members of the expert Council. Performances will be the final chord of the Ural Music project Support 2019.
In the expert Council includes famous Russian and foreign figures of the music industry: Michael Ginsburg (Universal Music Group), Semyon Galperin (Tele-Club Group), Alexander Gamayunov (Roof Fest), Ingrid Kohtla (Tallinn Music Week), Vadim Petin (Invasion), Anton Rastovich (JAM Club. Jazz club Andrei Makarevich), Sergey Mudrik (Evening Urgant), Tatiana Panteleeva (Doing Great Agency), Maxim Olives (Brainstorm), Katerina Pavlova (Soldout Mafia), Paul wedges (POLYGON.Concert Agency, Mill), and others.
During the festival experts will hold lectures and master classes, will share the secrets of not only participants, but also everyone. In two days you will gain invaluable knowledge in the field of promotion of the musical group and events, interaction with record labels, working with technology and sound. To acquire new friends in a musical environment.
Tickets can be purchased at:
- https://ekb.kassy.ru/event/2-23811/
News